Are you looking for free Hootsuite alternatives? We have created a list of 12 alternatives to Hootsuite for you. Some of them offer free TRIALS while some are free FOREVER.
Hootsuite is one of the widely used platforms for managing social media. It supports all the major social media platforms like Facebook, YouTube, Twitter, LinkedIn, and Instagram. Its App Directory offers additional integration of more social media sites like Tumblr, Reddit, Marketo, and Storify. If you need free alternatives to Hootsuite, for whatever reason, we have some names for you to check out.
Here Are 12 Hootsuite Alternatives Offering Free Trials or Free Forever Service:
1. Social Champ (Free Trial, 20% Off)
Social Champ, a top-rated Hootsuite alternative, is a social media management and scheduling tool that allows you to manage multiple social platforms, including Pinterest, Instagram, Facebook, Google My Business, Twitter, and LinkedIn from one tab. Social Champ offers pricing plans starting from as low as $10/per month with four different options, including Professional ($10), Champion ($29), Business ($99), and Agency ($199), which means that it has solutions for all types of entities. Additionally, if you subscribe for the annual plan, you receive a flat 20% OFF on all pricing options using the coupon code: SOLUTIONSUGGEST

Social Champ is the best Hootsuite alternative in 2021, as it is cost-effective and has impressive features along with a 7-Day FREE trial. Use Auto RSS to connect your favorite blogs, Bulk Upload to schedule tons of content at once, All-In-One Calendar to view all your scheduled/published posts, Social Inbox to reply to comments and messages to keep in touch with the audience, and much more!"
—
P.S: The above 20% offer is exclusively for Solution Suggest visitors. Normally, they offer 10% OFF on yearly purchases.
2. Viralpep (Free Forever)
Viralpep is the best lifetime free alternative to Hootsuite for small business to agency-level usage. Its free plan integrates with LinkedIn, Facebook, and Twitter. Viralpep's "FREE" plan lets you manage 3 social media profiles and 20 social media posts every month. Plus, you get a URL shortener, gifs, and video support, options to schedule, and previews to links. The only drawback is that its plans only support post scheduling for LinkedIn, Twitter, and Facebook.
Viralpep is a non-expensive Hootsuite alternative. It offers three plans- Professional for $10 per month, Business plan for $ 35 per month, and Enterprise plan for $75 per month. And these plans have no posting limits. You get a 15-day free trial to make up your mind.
3. E-clincher
E-clincher is yet another cloud-based Hootsuite alternative with a simple and efficient way of managing all your social media accounts all in one single platform. It offers a lot of tools like scheduling and publishing posts, monitoring keywords, auto-publishing, advanced analytics reports, interactions with one inbox, and managing your social media conversations.
e-clincher is integrated with Facebook, Twitter, Instagram, YouTube, LinkedIn, Pinterest, Google My Business, Google Analytics, Zendesk, Canva and many more. It offers three plans- basic at $59 per month, Premier at $119 per month, and Agency at $219 per month. You can try its 14-day free trial before buying a plan.
We consider it the best free alternative to Hootsuite because it offers a free trial. And it certainly offers a lot for the price it charges. Its content suggestion feature is effective when you are searching for third-party content for publishing on your social media channels. And it has a responsive customer service team. 
You Also May Like: Roll20 Alternatives
4. Agorapulse
Agropulse is a cloud-based social media management platform that helps users in publishing content across various social media platforms, monitor the activities on the accounts, and engage with their audience. It can help you identify trolls and angry comments and address them quickly to prevent any harm. And that's one of the reasons why it is a good Hootsuite alternative.
Agropulse integrates with all the major social media platforms like Facebook, Twitter, LinkedIn, Instagram, and YouTube. It offers you four plans- the Medium $29 per month plan for small businesses, a Large $159 per month plan for agencies, X-large $239 per month plan for the larger organization, and the enterprise plan at $399 per month for large teams with multiple profiles. And it offers a 28-day free trial along with many free tools.
Its reporting feature helps users to track engagement metrics like likes and shares easily. However, you can't publish videos on LinkedIn with it. Agropulse is the best free alternative to Hootsuite because you get to use it for free for almost a month.
5. SocialPilot
If you are looking for free alternatives to Hootsuite, SocialPilot is the one for you. It is a comprehensive marketing tool for social media. It helps businesses to automate their social media management. With it, you can schedule your posts, track your engagement metrics and connect with prospects on various social media platforms.
SocailPilot comes with the lowest pricing starting at $35 per month professional plan, moving up to the plan of $50 per month for the small team, and $100 for the agency. If you take the yearly billing cycle, you get great discounts as well. And you get a 14-day free trial as well.
With SocialPilot, you can divide the work of social media into tasks and allot it to teams. Its low pricing is an advantage for the users. Although it is one of the most sought after Hootsuite alternatives, it lacks the ability to post messages on Facebook groups, unlike Hootsuite. 
6. Sendible
Sendible is a cloud-based tool for social media management and is ideal for digital agencies and small businesses. It is a free alternative to Hootsuite because it offers a free trial before you decide to buy a plan.
Its social CRM functionality is its unique selling point which allows you to schedule your social media posts, track interactions easily from a social inbox folder, and above all it helps you in managing leads generated from social media. It integrates with Facebook, Instagram, Twitter, LinkedIn, Facebook ads, Google My Business, Pinterest, and YouTube. It also supports blogging platforms like Blogger, Tumblr, WordPress, WordPress.com, and Medium.
You can get its Starter pack at $29 per month while its Traction plan is available at $99 per month. You can buy its Growth plan at $199 per month and its Large plan at $299 per month. Sendible is easy to use and learn and its solution embedded reports are detailed and useful. And that makes it one of the best Hootsuite alternatives available.
Recommended Read: Yesbackpage Alternatives
7. Sprout Social
Sprout Social offers a best-in-class dashboard, it is eye-soothing, simple, and easy. Since you can use it free of cost for a month, we consider it the best free alternatives to Hootsuite. In fact, it is a tiny bit more expensive than Hootsuite and it is more powerful comparatively as well. Its analytics offer a lot of metrics that you can customize easily. Sprout Social comes with a clean design and you can add your client's logo to the reports as well.
It is expensive but with it, you save money from not having to buy a separate CRM tool. This tool has a built-in image editor and a help desk integration. It also offers listening tools and workflow tools. It supports Facebook pages and messenger, Twitter, LinkedIn, Pinterest, and Instagram.
This Hootsuite alternative has a Standard plan for getting started at $99 per month. For more powerful tools, you need to buy a $149 per month Professional plan and you can find the advanced tools in the $249 per month Advanced plan. You can go for a 30-day free trial period before buying.
8. Buffer (Free Forever)
If you are a small or mid-size business owner and need Hootsuite alternatives, Buffer could be your best bet. It is a cloud-based platform where you can schedule your social media posts, create a task for its team and assign it to them along with tracking the performance metric in real-time. It supports Facebook, Instagram, Instagram stories, Twitter, LinkedIn, and Pinterest.
If you are just getting started, the Pro version is available for you at $15 per month. If you are a growing brand, $65 per month Premium version. For a larger team, the Business plan at $99 per month is the ideal pick. You get to have a 14-day free trial for all of them. And it has a free basic version as well with limited facilities.
It is easy to learn and use and you can schedule the same message at the same time across different social media channels. This makes it one of the best free alternatives to Hootsuite. However, it doesn't integrate with YouTube.
9. Proofer
Proofer is a social media post management tool and is a good alternative to Hootsuite offering a free trial. Proofer works with Facebook, LinkedIn, and Twitter. You can also use some features of Instagram with the basic Freelancer plan as well. But you can only use 5 social media platforms at a time in this plan.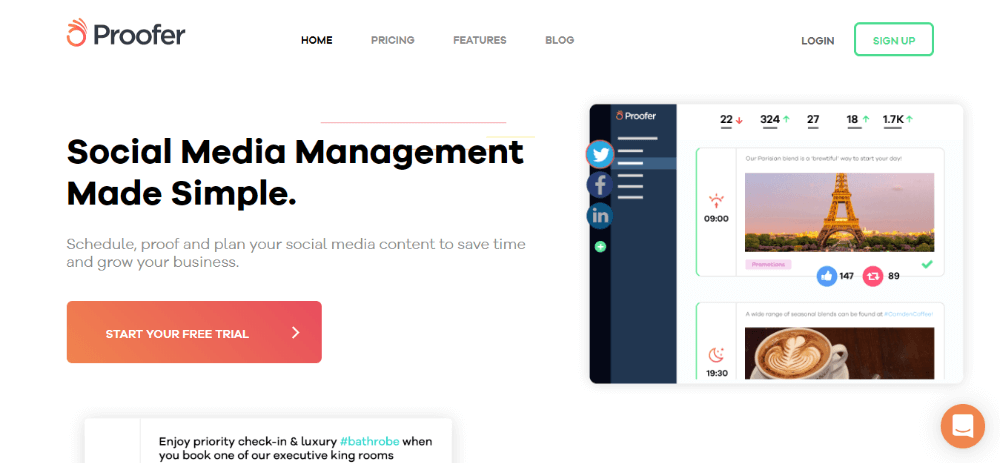 You can see the scheduled contents in the editorial calendar and they proof your content as well. The best part is there is no limitation to scheduled posts in the free plan. And if you want to repost your own content, you can set up 50 of them to be reusable.
Imagine, if a free plan can give you all this, what features must its paid plans be holding? This Hootsuite alternative has four plans for its users. The Freelancer Plan is at $12 per month and then there is a $29 per month Brands plan. At $99 per month, you get the Agencies plan and at $249 per month, there is the Enterprise plan. It offers a 14-day free trial.
Also Read: Schedulefly Review and Alternatives
10. Friends+Me
Friends+Me offers a 15-day free trial so that we have listed it as one of the free alternatives to Hootsuite. Its free plan is decent and it allows you to connect with LinkedIn, Facebook, Tumblr, and Twitter. You can use Pinterest with its paid plans. Its Individual plan is available at $9 per month, Small plan at $29 per month, Medium plan at $59 per month, and Large plan at $259.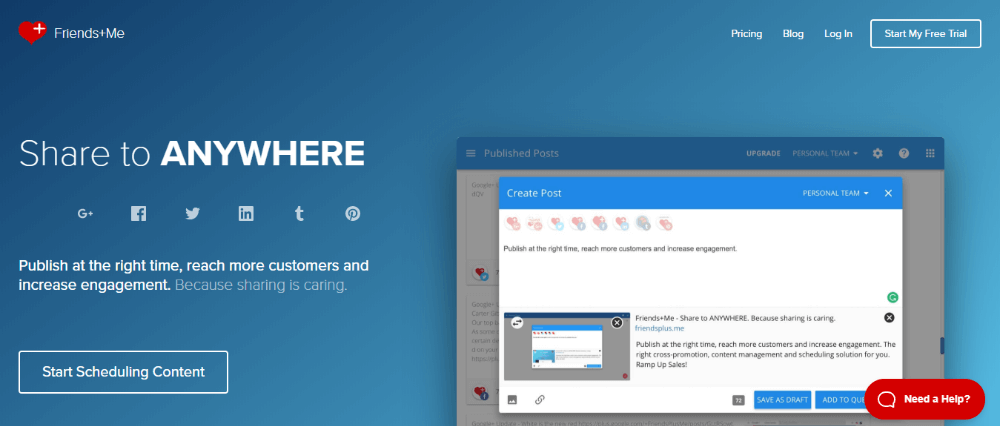 You can also use the browser extension, a desktop app, a mobile app, URL shortening, and integration with Zappier. You can schedule the posts to reach more customers and pull up the engagement. With it, you can stay focused on creating great content. This Hootsuite alternative fulfills your needs for social media management.
11. SocialOomph (Free Forever)
If you want to add a little oomph to your social media management, SocialOomph is a try-worthy free alternative to Hootsuite. With its free version, you can schedule your tweets, track keywords, shorten the URL, and you can access up to five Twitter accounts at once.
For accessing Pinterest, Facebook, Plurk, LinkedIn, Shopify, Tumblr, WordPress.org, WordPress.com, email features, and RSS, you will have to buy their premium plans. Their advance suite is available at $15 per month, while their Professional suite is available at $25 per month and at $55 per month, you can buy their Business suite. With the premium version, you can also unlock the publishing and scheduling options. It is not exactly a free Hootsuite alternative if you look at the features its paid versions unlock. 
12. Metigy (Free Forever)
Metigy is one of the best alternatives to Hootsuite designed by marketers for marketers, think of Metigy as your personal strategist. You can preview your social media posts and content over multiple social network platforms. Get recommendations on how often you should publish, when to share, and what networks you need to be active on to reach your audience and objectives. And you can boost posts and keep up with your ad campaigns directly in your calendar. Set objectives and make your budget go further with proven marketing strategies.
Its premium plans start at $25 per month. For a more productive scope, you need to upgrade to a $149/m Team plan and you can find more tools in the $499/m Business plan and $500/m Agency Plan.
The best part is that you can signup for Metigy's "FREE forever" plan without a credit card and start creating social media marketing strategies to get engagements and conversions. You can upgrade to its Pro or Team plan anytime.
Conclusion
Hootsuite is one of the best social media management tools but there could be many reasons why you might want a Hootsuite alternative. Maybe the pricing is too much or it is a bit too complicated for you to use. It could also be that you are looking for free alternatives to Hootsuite or something a bit easier and basic. This list has everything you could ask for.
Still have questions? Check out the frequently asked questions about social media tools in Chris Makara's article.