Facebook or YouTube – video is dominating the online content and how people are spending more time watching videos rather than reading text or viewing pictures. It is quite obvious for the fact that video is the easiest form of content to consume. 
Video Marketing Statistics 2020 by Wyzowl reveals that 92% of marketing experts who make use of video say that it's an important part of their overall marketing strategy.
The impact of video content is so strong that it is fast becoming the lifeline of any marketing strategy. Brands are now focusing on video content to stay ahead in the game.
If video is the way forward, then what is stopping you to jump in the bandwagon?
Not an expert in video editing? Well, you have landed on the right page. Video editing is not rocket science, with the help of free or paid video editing software you can learn editing and produce professional videos in no time. 
Check Out the 18 Best Video Editing Software for Beginners:
1. OpenShot 
Looking for a free fast video editing software, well look no further. OpenShot is easy to use software with an instinctive interface and minimalistic design – perfect for simple editing. OpenShot has amazing features like beautiful video effects, unlimited tracks, title editor, animation & keyframes, and 3D animations making it the best video editing software for beginners.
OpenShot is a great option for small businesses and is available for Windows, Mac, and Linux PCs. It works best for scaling, snapping, clip resizing, and trimming. 
Pros of OpenShot:
Cut, crop, trim, split and merge video clips with ease 
Supports more than 70 languages 
Helps export project in 4K UHD 60fps and 2.5K QHD 60 fps without watermark
Cons of OpenShot: 
Video rendering speed is slow 
Crashes often, especially on a laptop 
OpenShot Pricing:
2. iMovie Apple
It is one of the most popular video editing software for Mac users. Simple and elegant, iMovie can be considered as the best video editing software in 2021. Talking about iMovie's best feature, 'green screen' will have you all excited. The green screen or 'chroma-key tool' feature allows you to place your subject anywhere in the world. Iceland, Hawaii – you name it – Apple iMovie will take you there. 
iMovie includes transitions, eight themes with music, ten video filters, slow motion, fast-forward, split-screen, images in the image – all created by Apple. So, if you have a Macbook, your search for the best video editing software for beginners ends here. 
Pros of iMovie:
Edit each clip up close 
Can fix shaky videos 
User-friendly interface 
Cons of iMovie:
Only for Mac and iOS
Importing formats 
iMovie Pricing:
3. Fastreel
If you need a video editor that can help you cut and crop video online or create a slideshow of photos, Fastreel will work perfectly. This video maker offers many options, an extensive choice of templates, and a library with a number of royalty-free tracks.
Super-intuitive interface makes Fastreel available for all users. However, this program has the functionality of a professional video editor.
Pros of Fastreel:
Two different modes
More than 35 ready-made templates
More than 20 tools
You can compress video online without the quality loss
Cons of Fastreel:
You cannot customize templates
If you need to use several tools, you have to use them one by one
Fastreel pricing:
free to use with limitations (watermark and the quality of 480p)
Single Premium, $5.95 per video
Unlimited Premium, $19.95 per month or $119.40 per year
4. Movie Maker 10
A super convenient and free video editing software, Movie Maker 10 is ideal for making quick and short video clips, especially when you are pressed for time. So, if you are planning to start a YouTube channel, you can go for it.
With Movie Maker 10 you can combine clips into digital movies with transitions, effects, titles, and background music. All these features make Movie Maker 10 the best video editing software for beginners. 
Pros of Movie Maker 10:
Transition options 
Auto preview of effects 
Voiceovers and other audio features 
Cons of Movie Maker 10:
Non-adjustable effects 
No saturation or contrast adjustments 
Movie Maker 10 Pricing:
5. Lumen5 
Lumen5 is hands down the best video editing software for beginners. It is a great tool for social media marketers who spend their time creating video ads. 
Lumen5 uses artificial intelligence to turn all text into video. AI technology creates storyboards, fit content, and find relevant music and visuals. The software of Lumen5 offers some amazing features to make your video look sleek and professional; you can also optimize your video for no sound. In the segment of best video editing software in 2021, Lumen5 is a clear winner. 
Pros of Lumen5:
Supports various video formats 
Offers branding options 
Library with millions of free media files 
Can add logo and watermark
Cons of Lumen5: 
Free plan comes with lot of limitations
Lumen5 Pricing:
Free subscription for 5 videos per month.
Starter plan at $29 per month.
Premium plans at $79 per month.
Business plan at $199 per month
6. Corel VideoStudio
In my opinion, it is one of the best video editing software for YouTube beginners. Supporting 360-degree VR and 4K, Corel VideoStudio is the best option for you. Corel VideoStudio offers motion tracking – a feature to track a specific object throughout your cut, making it the best video editing software in 2021. Corel VideoStudio also helps you to edit 360-degree video and export directly to YouTube.
Pros of Corel VideoStudio:
Clean and simple interface 
Multi-cam editing 
Stop-motion tool 
Fast rendering 
4K video support  
Cons of Corel VideoStudio:
Crashes occasionally 
Limited features for professional use
Corel VideoStudio Pricing:
Pro at $54.99 per month.
Ultimate at $79.99 per month. 
7. Lightworks 
A perfect tool for advertising and marketing professionals, Lightworks is a platform for bloggers, sound engineers, camera operators, and editors. One can easily vouch for Lightworks as the best video editing software for beginners for its simple interface and detailed tutorials.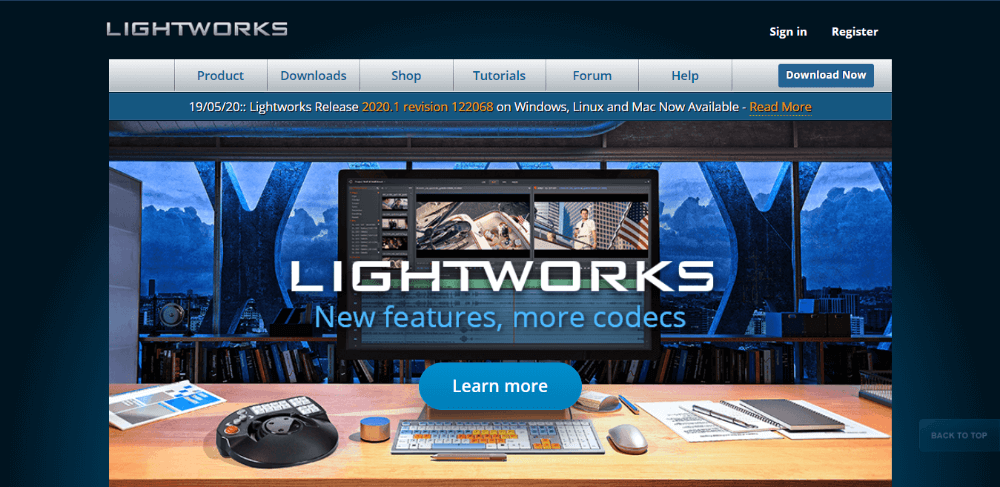 It works effortlessly on Linux, Windows, and macOS. A free video editing software, Lightworks is best suited for small-budget projects.
Pros of Lightworks: 
Supports a broad range of video formats
3D video processing 
Edit and crop the timeline with ease 
Cons of Lightworks: 
Lightworks Pricing:
Free trial.
Pro version for $24.99 per month          
8. Adobe Premiere Pro
Need the video editing software which works as a pro yet easy to use and understand? Adobe Premiere Pro is the best option for you. It is mostly used by professional video editors and YouTubers.
Developed by Adobe Systems, Adobe Premiere Pro is quite a popular video editor as it can easily modify any video, process audio, and adjust colors. The unique feature of this tool allows you to process any kind of multimedia content in the original format on mobile and desktop. 
Though aimed at professionals, its excellent usability and easy to learn tutorials makes Adobe Premiere Pro the best video editing software for beginners. It can be used for iOS, macOS, and Windows.
Pros of Adobe Premiere Pro:
Convenient user interface 
Easily integrates with other Adobe software
Plenty of customizable features and plugins 
Cons of Adobe Premiere Pro: 
Expensive official license 
Adobe Premiere Pro Pricing:
9. Apple Final Cut Pro X
If iMovie is a breeze for you, then making a transition to Apple Final Cut Pro X will be smooth as well. Powerful, easy, and affordable, Apple Final Cut Pro X is the best video editing software in 2021. 
Not just video, the software provides a huge selection of effects and transitions for audio as well. YouTube, Vimeo, Facebook – Apple Final Cut Pro X offers integrated uploading. Want a level of professionalism in video editing? Apple Final Cut Pro X is your best bet. 
Pros of Apple Final Cut Pro X:
Color correction capabilities 
Great importer
Good rendering speed 
Cons of Apple Final Cut Pro X: 
Limited export settings
Sound editing is not strong 
Apple Final Cut Pro X Pricing:
30-day free trial.
One-time payment of $299.99
18. VSDC Free Video Editor
Looking for the best video editing software for YouTube? This non-linear video editing software is capable of creating incredible compositions by combining video files and images in any sequence. Features of the VSDC Free Video Editor include adding transitions, titles, subtitles, filters, and video effects. It also boasts of green-screen video effects.
VSDC Free Video Editor is the best video editing software for beginners as someone with no experience in video editing can easily create stunning videos. 
Pros of VSDC Free Video Editor:
Exports to a wide range of video formats 
Inclusive of screen recorder 
Cons of VSDC Free Video Editor: 
Free version has lot of limitations
VSDC Free Video Editor Pricing: 
Free to use
Can upgrade to Pro version for $19.99 per month
11. Nero Video
A low-cost, PC-only video editing software, Nero Video is unquestionably the best video editing software for beginners. It covers the basics of editing, including effects, titles, and transitions.
The users are able to create and produce professional-grade, stunning videos, and captivating slideshow presentations – making Nero Video an ideal editing software for any video production project. The main goal of this free video editing software to is to make the editing process as smooth and effortless as possible for a novice.
Pros of Nero Video:
Good import features 
Express and Advanced Editing workspaces
H.265 HEVC and Ultra HD support
Cons of Nero Video: 
No effect previews 
No multi-camera editing 
Nero Video Pricing:
Free trial
One-time payment of $39.95
12. Shotcut 
Shotcut is an open-source multi-format for Linux, Windows, and Mac devices. It is an excellent, free video editing software for beginners. 
Features that make Shotcut the best video editing software in 2021 include: video effects, cross-platform, and codec independent, wide format support, editing features, display and monitoring, and hardware support. Shotcut is perfect for audiophiles – providing extensive audio editing options. 
Pros of Shotcut:
Configuration on multiple monitors
Customizable menu 
Cons of Shotcut: 
No option to preview filters 
Shotcut Pricing:
13. HitFilm Express
An advanced video editing software, HitFilm Express is worth a shot. This free video editing software gives you the most fascinating set of tools for video processing. Packed with plenty of features and several built-in templates – editing videos with Hitfilm Express is like a cakewalk. 
With this editing tool, you can effortlessly trim clips, export footage to any video format, and adjust colors. The composite shot enhancement feature allows you to animate two separate shots together for dreamlike effects. 
HitFilm Express is the best video editing software in 2021 for its time saving and professional grade video editing. 
Pros of HitFilm Expres:
Support for 360-degree and 4K video
Reliable timeline editor
Advanced tracking and screen simulation
Cons of HitFilm Expres: 
HitFilm Expres Pricing:
Free version available
HitFim Pro 15 at $349  
14. Blender
For rendering 3D animation nothing beats Blender.  A free video editing software, Blender is not only popular among beginners, but it is also a favorite of many professional 3D-modelers. 
Blender is very proficient at handling complex edits like video masking. For realistic kinematics, Blender has advanced character animation tools which makes it the best video editing software in 2021, especially for 3D animators.
Pros of Blender:
Live preview
Elaborate transition and filters 
Free character download
Cons of Blender: 
Blender Pricing:
Free
Donation option available
15. Filmora 9
Easy yet powerful, Filmora 9 is here to satisfy a novice editor, as well as keep a professional, content. You can create a professional video or a movie by using different video and audio effects, transitions, filters, custom captions, etc.
The "Easy Mode" is great to create polished edits. Just drag and drop clips, select music, and theme, and you are ready with your masterpiece. These fantastic features are more than enough to call Filmora 9 the best video editing software for beginners. 
Pros of Filmora:
Easy to use 
Support 4K video 
Powerful audio mixer
Cons of Filmora: 
Watermark in free version 
No motion tracking 
Filmora Pricing:
Free trial with all features (includes watermark)
Individual plan at $39.99 per year
Individual lifetime license for $69.99. 
16. Adobe Premiere Elements
A simplified video-editing software, Adobe Premiere Elements works effortlessly on Mac and PC. The software allows users to find clips and photos in no time. Users can create professional-grade videos with Adobe Premiere Elements' step-by-step guide. 
This video editing software can help create animated social posts that can be easily shared for social media marketing. 
Pros of Adobe Premiere Elements:
Support 4K video 
Automatic adjustments 
Cons of Adobe Premiere Elements: 
No 360-degree or VR support
No multi-camera support 
Adobe Premiere Elements Pricing:
Free trial
$99.99 for the one-time payment.
17. Clipchamp
Clipchamp is a web-based video editor that lets you create professional videos for free. The platform is built for everyday editors, making sense that its tools are simple and take next to no time to pick up. Clipchamp brings you all the useful editing options of a state-of-the-art video maker including trimming, cutting, speed control, titles, filters, webcam and screen recording, and more. 
Pros of Clipchamp:
Easy timeline editor
Professional filters and transitions
Customizable video templates for social media like Facebook, Instagram, Tiktok and Youtube
Easy to navigate stock library
480p up to 1080p high resolution exports
No watermark video editor
 Cons of Clipchamp:
Google Chrome web-browser only
No 360-degree VR or 3D editing
Clipchamp Pricing:
Its free basic plan allows unlimited video exports in 480p. 
Subscriptions start from $9 per month.
18. FlexClip
FlexClip is an online video production tool that allows people to create fancy videos in an easy way. With FlexClip, users can easily use the video and music inventory provided by FlexClip to quickly create videos, saving them time and money of searching for materials. In addition, FlexClip also provides primary text effects. It can be said that even if you don't understand professional tools such as Adobe Premiere, you can quickly make impressive videos.
Pros of FlexClip:
No download and editing skill is needed.
Royal-free stock resources, including preset video templates, images and music.
Screen recorder and video converter supported.
Preview the video in real-time.
Cons of FlexClip:
No 4k video
Incompatible with mobile devices
FlexClip Pricing:
Free version available.
3 Paid plans available. The price starts at $4.99/mon.
Frequently Asked Questions
What do most YouTubers use to edit their videos?
YouTubers generally prefer using video editing software like Adobe Premiere Pro CC, iMovie, and Final Cut Pro X.
What do gamers use to edit their videos?
Free editing software such as EaseUS Video Editor, Kdenlive, Shotcut are preferred by gamers to edit their videos.
Which is the best video editing software?
The best video editing software is Adobe Premiere Pro, followed by Final Cut Pro x, and Adobe Premiere Elements.
What is the best free video editing software?
OpenShot is a free and open-source video editor for Linux, Mac, and Windows.
Is YouTube Movie Maker free?
YouTube Movie Maker is absolutely free. It is easy to create, edit, upload, and promote YouTube videos.
Conclusion 
Editing video can be a daunting task, especially if you are a novice. However, with any of these 18 best video editing software for beginners, you can rest assured to create something incredible. Whether you are a content or social media marketer, the only way forward for your brand is to produce high-quality video content. So, practice, learn, and create what you love.